News
The latest in
EXEDY Friction Material News.
11/20/2012Topics
EXEDY Friction Material awarded by the labor bureau
EXEDY Friction Material received both praise and recognition as well as a positive evaluation from Thailand's Chonburi Prefectural Labor Bureau, which awarded them for their labor management and employee welfare.
The award ceremony was held at the Chonburi Prefectural Labor Bureau on November 6, 2012. The bureau's president, Mr. Jirawat, presented President Tomoaki Goto and EFM employee Mr. Thanakit with an award recognizing EFM's efforts.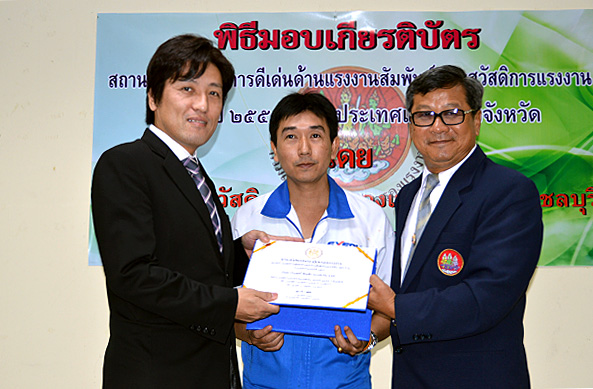 EFM is happy to celebrate being awarded with this award for the first time. EFM's motivated employees are the result of the good communication and management carried out at EXEDY Friction Material. EFM's management promises to continue working on further improving the relations it has with its employees. They also plan on, in the future, making EFM an enjoyable place to work at.