Products and
Technologies
EXEDY's products and technologies highly
regarded the world over where many
automobile manufacturers select them to be
used as OE parts in their vehicles.
Product Development for the Future


Direct Drive iSG for HEV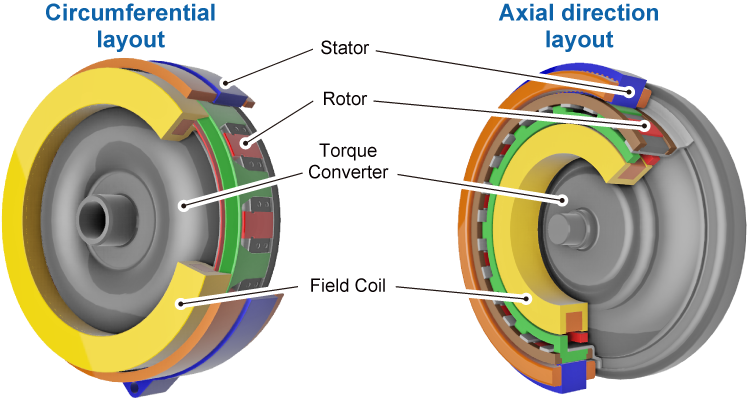 As part of our company's electric technology, we are independently developing an iSG (integrated Starter Generator) that directly drives the engine without using a belt. Generally, starter generators used for power generation and driving installed in commercial vehicles, are belt-driven. However, our company's "Direct Drive iSG for HEV" is a starter generator installed around the torque converter or clutch, and therefore connects directly to the engine without the use of a belt. With this product we aim to improve fuel economy by reducing friction loss, achieve a cost reduction and save space by integrating and eliminating parts.
E3-Drive Technology

We are developing a highly versatile electric drive unit that can be used in a variety of mobility. This retrofittable unit with integrated mechanical and electrical structure has high expandability thanks to its modular architecture, and is also equipped with a disconnect clutch that disconnects power when the battery is exhausted. It is even compatible with large diameter wheels such as wheelchairs.
Examples of application: Pallet jack, cargo trolley, wheelchair, etc.
Motor for Assistive Mobility Devices

We are developing a motor that can be applied to various types of mobility, including assisted mobility and industrial drones.
Despite its small size, it achieves high torque and high output at low speeds, contributing to the downsizing of various devices.
Examples of application: Assisted / personal mobility, drones, small AGVs, elevators, electrically power assisted trolleys, agricultural equipment, etc.
Small Wind Power Generator
We are jointly developing a wind power generator with high power generation efficiency with Riamwind Co. Ltd. (a Kyushu University start-up) using the fluid analysis technology of the torque converter and the lens effect of the diffuser.
A prototype small wind power generator has been installed on the roof of our main office building, and we are continuously monitoring the power generation.
Examples of application: Regeneration of exhaust air power, emergency power supply for evacuation centers and hospitals, power supply in non-powered areas, etc.